No second-guessing. Decide based on facts.
Trying to guess which email subject line will get you more opens? Take a data-driven approach instead.
Go for what performs best
Here's how emails A/B testing works. A small chunk of your audience will see subject line #1, another small chunk — subject line #2. The option with the most opens is the one the rest of your audience will get.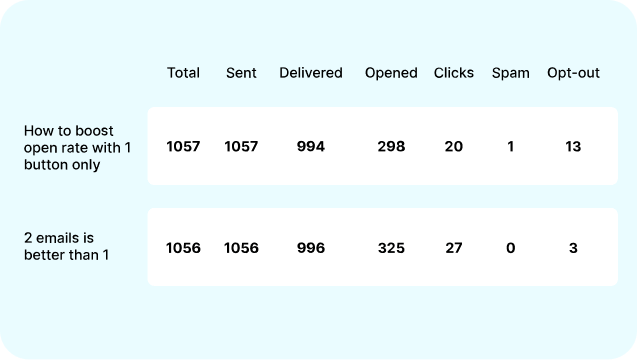 More insights — better results
Here's how email testing will help your business
Get more clicks and sales
Compare both test email versions, check which one performs better and get a higher conversion.
Check which idea works best
With or without images? What about adding emojis to your subject line? Don't think twice — make a test.
Know your audience better
Which product gets the most clicks? Which type of articles gets the most opens? No need to do a big survey. Your audience's actions will speak for themselves.
Fine-tune every step in your campaign
Discover what performs best all along your customer's journey
Before opening
Subject line and preheader
From name
Send time
After opening
Text size and formatting
Buttons and links color
Images options
It only takes a few minutes to start testing
Here's how you can launch a split test with Unisender
Make a copy of your email. Change the element you want to test in the copy.
Indicate the participating audience and the campaign duration.
Click "start" and enjoy the show.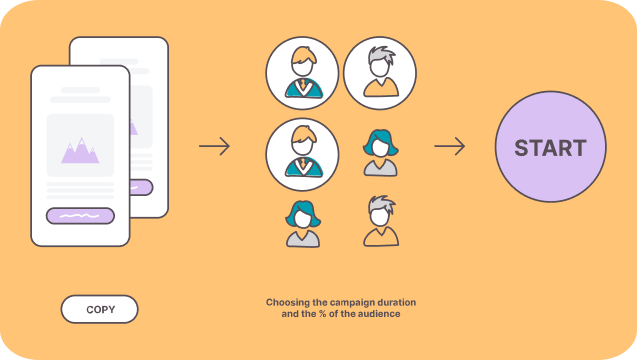 Take your A/B testing even further
Segmentation
Divide your audience into segments for even more opens and higher CTR with Unisender segmentation tool.
Personalization
Discover personalization possibilities to test subject lines and see if a subscriber's name in them will be a game changer.
FAQ
💵

Is email A/B testing free?
All A/B tests with Unisender are free.
⌛

How long does an average test last?
Finding out which of the two emails performed best usually takes some time. We recommend waiting at least 3 hours to get a proper result.
✉

Do I need to test every email?
No. But we recommend repeating your test on the same type of emails a few times to get the clearest picture.
💡

Can you test more than one thing at a time?
If you look at more than one thing at a time, you won't be able to understand what exactly influenced your result. For example, you won't be able to figure out what brought you more clicks: a different picture or a different button color. Try to stick to the rule: one A/B test — one element to test.
Test like a pro from the start
Launch your first email A/B testing campaign with Unisender.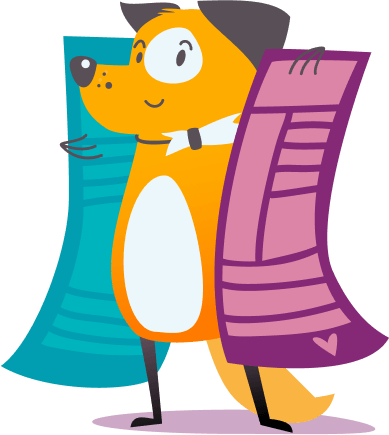 Start testing