Do you know how much money you receive from a mailing?
Our client, Andrei, started mailings and for every dollar spent he receives 2, and Mikhail - 9. Foreign colleagues write about a stratospheric 42-dollar return.
And how much do you make? During my first mailing, there was only a vague idea that it was "not enough." It turned out that it was enough. It was only necessary to increase the base. Please note! There are many formulas. But first, let's talk about what data you need and where to get it.
What indicators you need to know:
What is the size of your base?
How many emails did you send in a certain period of time?
How much do you pay for your mailing service?
What is the percentage of emails opened?
What is your % of CTOR;
What is your % of СR;
How much does one email cost?
How many orders do you get, and from which email?
How many visitors does each mailing bring to your site?
What is the average cost of an order?
How much do you earn on each order?
How much do you pay for "related" services - layout, design, copywriting?
How to find out all of this:
The size of the base can be found in «Contacts» — «Contact Lists».


You can find out the number of emails you sent in the reports. For regular letters, the report can be found in «Tools» — «Analytics».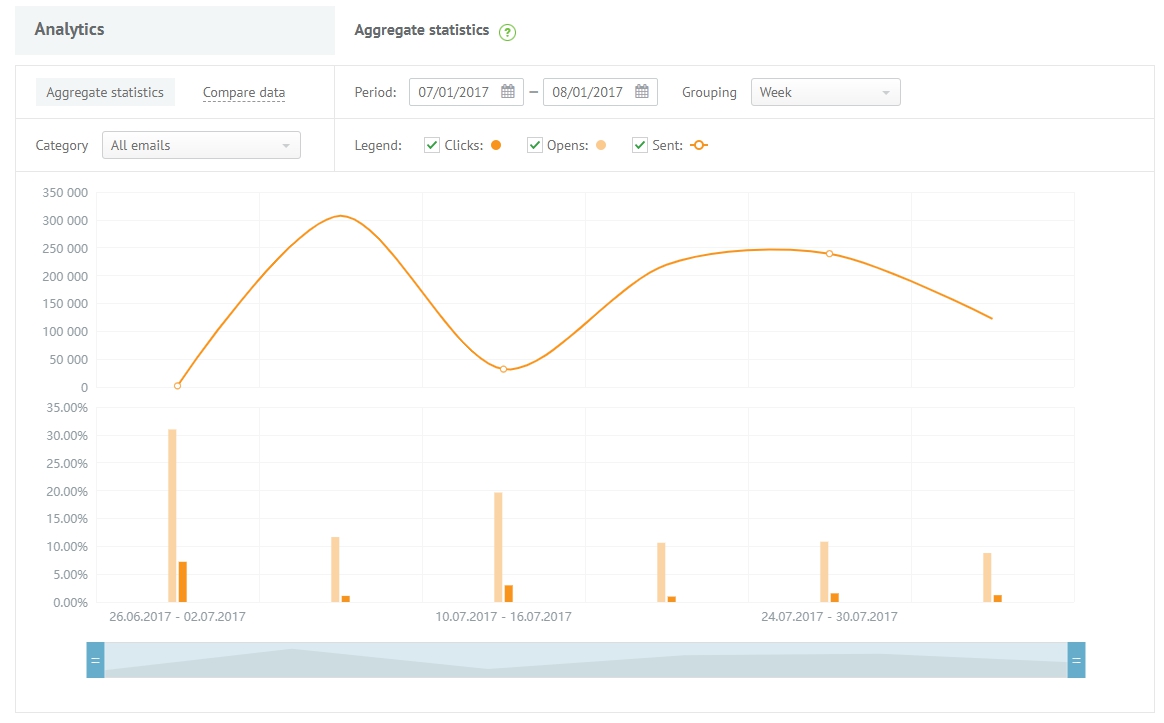 In this report, you will find:
How many emails were delivered;
How many emails were opened;
How many clicks were made.
Not all clicks are equally useful
Be sure to check the following links:
For example, you have 100 followers of your company's website, 500 followers of the product that you sold, and 25 followers on social networks. In fact, only the 500 are useful, all the rest are a nice bonus that can help you in the future.
For automatic mailing you can find the same reports for each time you send. But if you need to find out the effectiveness of automatic email in general, then you need to get a summary report.
Go to «Mallings» — «Event Emails» and find your automatic email there. In the list, you'll see something like this:


How can you find out which letter the order came from?
By using Google Analytics.See here it is done.
When we created the email and before sending it, there was an item to enable integration with Google Analytics. It must always be clicked. In this case, each link is marked accordingly, and in the statistics on e-commerce you will see which orders came from which database and from which email.
Now we have all the necessary information. Let's calculate:
The formula for measuring mailing efficiency
There is one good formula for measuring mailing efficiency that Denis Kuklin uses:
Eм= I*1000/B,
Where Eм – mailing efficiency for a month, I — monthly income
from the mailing. B — number of people in the database.
That is, if you have 80,000 people in the database, and you earned $5,000 for the month, then we get the following: Eм=5000*1000/80000=62,5 дdollars for every thousand contacts. Based on this information, we can determine how profitable it is to invest in a base.
And if you follow the dynamics, you can see the quality of the base and the quality of working with it.
It's not trivial if this month's efficiency is $10 from 1000 contacts, but last month it was $50. Either you did something really bad with your mailing list, or you bought another additional base.
How to calculate ROI
All marketers know about ROI - Return On Investment. For mailing, this is also a very topical issue, especially since this sales channel has one of the highest ROIs (in 2013 it was up to $42 for every dollar invested).
How to calculate the ROI of mailing
ROI = (Profit earned – Investment)/Investment
The profit is how much you earned by selling goods. Investments include:
the cost of the mailing service (for example, how much you pay for your tariff plan);
the salary of an email marketer or part of the salary of the person who is involved in the mailing;
cost of templates, layout, designer's work;
cost of the copywriter's work.
The beauty of it is that if you have a regular influx of contacts into the base, you can significantly reduce the investment sum by running an automatic series.
There is one difficulty. The fact is that the previous formula worked for a month of work. ROI is calculated specifically on your efforts. That is, you need data on orders from a particular email, and not all orders for the month. You also need data about how much you have spent on a particular email.
That's all, the next lesson will be about how to create subscription forms.
Оцените, на сколько вам показалась полезной статья «Everything Must be Calculated»
(0)